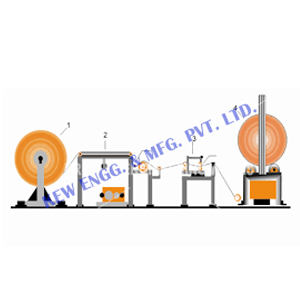 Liner Rewinder Machine is used for any winding & unwinding application for guiding the web to reduce the wastages of the material & to get high production output with minimum man power. We are a leading manufacturer, exporter and supplier of Liner Rewinder Machine from last 25 years, India. Liner Rewinder Machine with heavy duty and high quality equipment. Completely fabricated from Heavy Duty Chanel Angle structure of Rewinder Stand and Let-Off Stand Complete with pneumatic break and Safety Chucks.
Liner Rewinder Machine
Let off unit.
Inspection table with pressure roll device.
Web centering device.
Two roll surface polling machine with pneumatic pressing device.
Technical Specification of Liner Rewinder Machine:
Completely fabricated from Heavy Duty Chanel Angle structure of Rewinder Stand and Let-Off Stand
Complete with pneumatic break and Safety Chucks (Locking Assembly) on Let-Off Station
Inspection Table covered with S.S. Sheet structure-Guider Roller and Light System for Inspection Fabrics
Platform, Hydraulic Web Aligner (Power Pack) Unit complete with Hydraulic Cylinder, Air Sensor, Adjuster, Square Pipe, Air & Oil Pipe
Banana Roller to remove the wrinkle
Rewinder Unit completely manufactured from Heavy Duty Channel Angle and Angle with Pneumatic Cylinder for lifting the Drum Roller
Necessary Guide Rollers
10 HP AC Electric Motor with Synchronized reduction Gear Box
Electrical Control Panel Drive with Chain Wheel
Pressure Rubber Roller
Pneumatic Panel Board for Control of Pneumatic System
Necessary Safety Covers