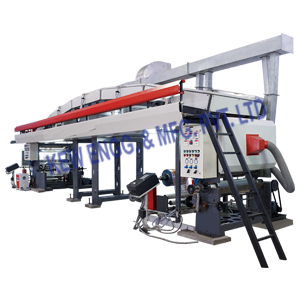 We have been successfully manufacturing, exporting & supplying all types of Lamination Machine since last 25 years from Ahmedabad, Gujarat, India. We are winner of 3 times National Award and 2 times International Award for Quality manufacturing. For Lamination Machine, we have processed all types of material like Polyester, BOPP, LD, PVC, Paper, Film, etc. We have more than 100 installation of Lamination Machine in India and overseas like Saudi Arabia, UAE, Dubai, Sharjah, South Africa, Nigeria, Ghana, Congo, Kenya, Zambia, Sri Lanka, Bangladesh, Malaysia, Pakistan, Nepal, Russia, Thailand, Indonesia, Brazil, Colombia, Venezuela, Argentina, Mexico, Canada, etc. KEW Manufacturer, Exporter & Supplier Of High-Speed Lamination Machine.Paper Lamination Machine, Automatic Lamination Machine, Thermal lamination machine, paper plate lamination machine, industrial laminating machine, komfi laminating machines.
Lamination Machine
Laminated materials are widely used for Plastic & Paper Materials like Milk Pouches, Food Packets, Wafer Pouches, Cloth Bags, etc. Our Lamination Machine are used for Laminating above all types of materials.
SALIENT FEATURES:
Heavy duty C.I. Cast iron & Heavy fabricated structure.
Gravure type coating system.
Cantilever type impression pressure assembly actuated with pneumatic piston for rubber roll Doctor Blade and Nip Roller.
Fully insulated imported special glass wool sheet fitted in the panel (Top side & Bottom) for controlling heat loss.
Type of Laminating Machine:
Dry Laminating Machine
Wet Laminating Machine
Heat Laminating Machine
Sheet Laminating Machine
Roll Laminating Machine
Technical Specification of Lamination Machine:
Web Width
400 – 2400mm
Unwind Rewind Diameter
600 – 1000mm
Hot Air Temp
50 – 150 / 250°C
Machine Speed
60 – 200 M/Min.
Heat Source
Hot Air Generator (Optional)
Exhaust
5 HP
Synchronized Drive
5 HP/5 / 7.5,10 / 3 HP for Coater, Nip, Rewind & Positive Drive (Optional)
Material to be Laminated
Polyester/Poly/Paper/BOPP/Aluminum Foil/HDPE Fabrics etc.