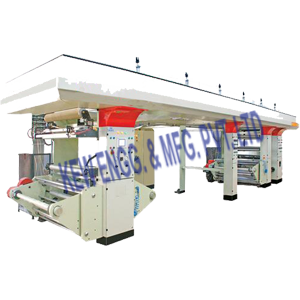 We have been successfully manufacturing, exporting & supplying all types of Coating Machine since last 25 years from Ahmedabad, Gujarat, India. We are winner of 3 times National Award and 2 times International Award for Quality manufacturing. For Coating Machine, we have processed all types of material like Polyester, BOPP, LD, Aluminum Foil, PVC, Paper, Film, etc. We have more than 75 installations of Coating Machine in India and overseas like Saudi Arabia, UAE, Dubai, Sharjah, South Africa, Nigeria, Ghana, Congo, Kenya, Zambia, Sri Lanka, Bangladesh, Malaysia, Pakistan, Nepal, Russia, Thailand, Indonesia, Brazil, Colombia, Venezuela, Argentina, Mexico, Canada, etc.
Coating Machine
SPECIFICATION:
Heavy duty side M.S. steel walls to ensure vibration free running at high speed.
Foundation free base frame.
High velocity air blower for fast dying.
Good quality electronic input drives, motors, Tension Control System etc.
All free rollers are dynamically balanced.
Pneumatic functions for impression rolls.
Auto tension control.
Coating Unit:
Designed for hollow & integrated shaft type cylinders
Special bearing housing are provided to support the cylinder shaft locked mechanically on the unit side frame during operation.
Thickness of glue coating can be set using the Anilox roller and doctor blade mesh.
Three side view open to see the web from three different directions while in operation.
Technical Specification of Coating Machine:
Working Speed
140 M/min to 200 m/min
Max. Web width
600 / 800 / 1000 / 1200 mm
Unwind Roll Dai.
600 / 800 mm
Rewind Roll Dai.
600 / 800 mm
Drying Section
Multi-zone arch type
Heat Source
Electrical / Hot Air
Coating Section
Gravure / Reverse Roll
Laminating Section
Chilling / Heating Roller with Pneumatic Nip Roll
Drive
Variable Speed: DC/AC
Unwind / Rewind
Simplex / Duplex