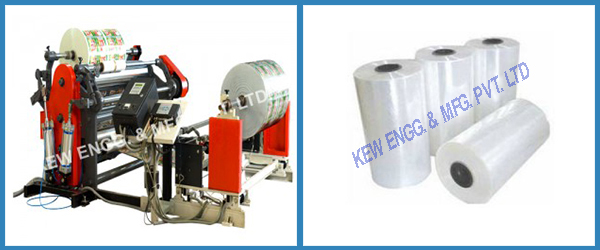 Slitter rewinder machine for extra clean film. It is designed with new and high performance. Our overhead Extra Clear Film Slitter Rewinder Machine combines new technology, features and design in heavy duty concept. Extra clear film mostly applicable for Printing & Lamination, Metallization, Embossing, Holograms and many more. Our slitter is ideally designed for the serious slitting all types of flexible packaging materials.
Extra Clear Film Slitter Rewinder Machine
One Mechanical / Automatic Web guiding system
One Mechanical / Automatic Brake
Type of Rewinding Duplex differential
Rewind Control through, two Clutch assemblies mechanical
Individual Slip Ring arrangement as per require cut
Razor Cutting (Standard) (Circular Knife – Optional)
With one full width Capacity, hard chrome plated steel roller 150mm
and one 150mm dia. synthetic rubber roll
One Pressure adjusting device Mechanical for Nip Roller Pneumatic (Optional)
Variable A.C. drive with Blower & Web Guide Controls
SALIENT FEATURES OF OPP CPP FILM SLITTER REWINDER MACHINE:
Most versatile, model providing combination of Duplex Center cum Surface Rewind System
Constantly flawless slit rolls by providing center driver drum to maintain. Fixed minimum distance between slitting and rewind point
Constant Line Speed causes constant tension rolls
Two Rewinding Shafts carried on swinging arms are center driven through adjustable slipping clutch
Counter Balance System to adjust the pressure between rewind reels and center drum
Suitable for off caliper / slippery / stretchy material
In special case, rewinding shaft can be supplied with provision of individual different slip assembly for each slit reels
Slitting methods as per customer requirement like: Scissor cut/crush cut (Circular knives) / Razor blade slitting system
Side Frame Construction of Ribbed Anti VibrationI Body
Rewind – Central Drum or Duplex Type
Dynamically Balances drive rollers
Trim Separation by Air Blower of 1.0 HP AC Motor
Line Speed up to 100 – 200 meter /min. Depending on the thickness of the materials & operating conditions
Customized Roll Handling System for Enhanced production & Ergonomic Safety
AC/DC Drive system
OPTIONAL ATTACHMENTS FOR OPP CPP FILM SLITTER REWINDER MACHINE:
Auto Tension Control System for Unwind Unit
Digital Line Edge Guide System
Web Edge Guide System (Hydraulic / Digital Ultrasonic)
Pneumatic system for Arm / Clutch / Brake / Nip
Air shaft for Unwind Station & Rewind Station
Safety chucks at Unwinder Station
Bow rollers or Banana Roller for Wrinkle Free Working
Four motor synchronized drive
Our machine is an ultimate Slitter and Rewinder Machine for its accurate slitting and rewinding qualities. It ensures perfect slitting of rolls with consistent, flawless results and constant line speed. It is available in adaptable model to suit your requirement. Our Slitter Rewinder Machine is available in Rewinder, Duplex surface slitter and Rewinder and Canti lever differential slitter and Rewinder. Our Slitting Rewinding Machine is renowned for its accurate slitting at a higher speed and vibration less working.
KEW Slitter Rewinding Machine ensures perfect slitting of rolls with consistent flawless quality and constant line speed. It is available in adaptable model to suit your requirement.
Technical Specification of Extra Clear Film Slitter Rewinder Machine
| | | |
| --- | --- | --- |
| Web width | : | 400 to 5000 mm |
| Maximum Diameter Of Stock Roll | : | 600 – 1000 mm (1200 mm – 1400 mm Optional for Heavy Duty Model) |
| Minimum Slit Width | : | 15 mm |
| Maximum Diameter Of Finished Roll | : | 400 to 600 / 1000 mm / 1200 mm – 1400 mm (Optional for Heavy Duty) |
| Operating Speed | : | 3-15 HP at 415 V, 3 Phase , 50 cycles A.C. Supply |