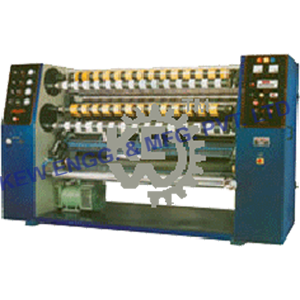 We have been successfully Manufacturing, Exporting & Supplying all types of Duct Tape Slitter Rewinder Machine since last 25 years from Ahmedabad, Gujarat, India. With more than 1400 installations all over India and overseas like Saudi Arabia, UAE, Dubai, Sharjah, South Africa, Nigeria, Ghana, Congo, Kenya, Zambia, Sri Lanka, Bangladesh, Malaysia, Pakistan, Nepal, Russia, Thailand, Indonesia, Brazil, Colombia, Venezuela, Argentina, Mexico, Canada, etc.
Duct Tape Slitter Rewinder
Slitting of all types of material like Plastic, Paper, Flexible Packaging, PVC, Aluminum Foil, Stretch Film, LDPE Film, BOPP Film, BOPP Tape, OPP, METPET, Pet Film, OPA, Non-Woven Fabric, Paper Board, Adhesive Tape, Film Ribbon, Textile Cloth, Nylon Fabric, Micro Tape, Coated Paper, Ice Cream Cup Paper, Fax Roll, Laminated Film, Cling Film, Duct Tape, Mask Tape, Rubber, Tarpaulin, Tube, etc. makes us most experienced manufacturer, exporter & supplier of Slitter Rewinder Machine.
UNWINDER:
Air shaft for 76mm core. At unwind with Safety chuck Max. Reel weight 1000kg
Imported pneumatic tension control with load cell
SLITTING UNITS:
Type of slitting: Razor in groove/circular rotary slitting system
One full width capacity grooved roller
Trim removal system: 2 HP blowers with full width Pipe for trimming along with a trim Injector unit
Quick and easy system for change over from one slitting mode to another and from one slit width to another
Technical Specification of Machine:
Web width
400 to 5000 mm
Maximum Diameter Of Stock Roll
600 – 1000 mm (1200 mm – 1400 mm Optional for Heavy Duty Model)
Minimum Slit Width
15 mm
Maximum Diameter Of Finished Roll
400 to 600 / 1000 mm / 1200 mm – 1400 mm (Optional for Heavy Duty)
Operating Speed
3-15 HP at 415 V, 3 Phase , 50 cycles A.C. Supply